Magic The Gathering Deck
Name : Elf Army
Color : Green
Deck size : 60 cards
Created : June 2008
Last updated : October 2009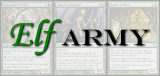 Elf Army is my proud deck. I have used this deck for few months and it rarely disappoint me.
The basic idea is very simple, elf and more elf. Each and every card provides special abilities that will work with other elves.
Llanowar Elves or Elvish Archdruid is the mana maker which usually can be played during the first three turns, making it easier to cast other spells. Special creatures like Wren's Run Vanquisher and Talara's Batallion gives us quick power building.
Lys Alana Huntmaster and Elvish Promenade doubles the number of elves, which can make */* creatures like Jagged-Scar Archers, Heedless One and Drove of Elves become a sweet final blow.
The Key Cards
| | | |
| --- | --- | --- |
| Gives +1/+1 to other elves and would create one elf warrior token every turn, not bad at all ! | Even better, +1/+1 to other elves plus huge mana generator. | Two manas for 4/3 trample, can't ask for more than this =) |
| Play Lys Alana Huntmaster as early as possible and we can double the number of your elves very quickly. | Again, more elves ! | Two manas for 3/3 deathtouch, no complaint at all ! Reveal an elf? I got plenty ! ^_^ |
| */* and a perfect defense against flying creatures. | */* and can not be targeted by opponents spells or abilities, really cool. | The trample version of */* elf. |
| One mana for an elf and more mana. | When you have enough elves, you can make them bigger by giving them +X/+X counter ! | Effective life gainer. Ideal for sideboard. |
The Deck (v2)
4x Llanowar Elves (G, C)
4x Elvish Archdruid (1GG, R)
4x Imperious Perfect (2G, U)
4x Wren's Run Vanquisher (1G, U)
4x Talara's Batallion (1G, R)
4x Jagged-Scar Archers (1GG, U)
4x Drove of Elves (3G, U)
4x Immaculate Magistrate (3G, R)
2x Lys Alana Huntmaster (2GG, C)
2x Heedless One (3G, U)
2x Desert Twister (4GG, U)
2x Elvish Promenade (3G, U)

20x Forest

Sideboard
4x Wellwisher (1G, C)
4x Nullmage Shepherd (3G, U)
2x Door of Destinies (4, R)
The Deck (v1)
4x Llanowar Elves (G, C)
4x Devoted Druid (1G, C)
4x Imperious Perfect (2G, U)
4x Wren's Run Vanquisher (1G, U)
4x Talara's Batallion (1G, R)
4x Jagged-Scar Archers (1GG, U)
4x Drove of Elves (3G, U)
2x Immaculate Magistrate (3G, R)
2x Lys Alana Huntmaster (2GG, C)
4x Eyeblight's Ending (2B, C)
2x Elvish Promenade (3G, U)
2x Door of Destinies (4, R)

12x Forest
8x Swamp

Sideboard
2x Oracle of Nectars (2{G|W}, R)
2x Rhys the Exiled (2G, R)
2x Bramplewood Paragon (1G, U)