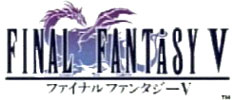 The world has been attacked by a meteor froum outerspace ! Butz, princess Lena, and Faris, the main heroes, are trying to find the truth about the meteor attack. They find out that the meteor come from a different dimension.
In the second dimension, the has to fight Exdeath and Gilgamesh, the villain characters.
Release date in Japan : December 6, 1992. This game was prepared to be launched in USA with title "Final Fantasy III", but then te plan was cancelled. In 1995, Squaresoft of America released this game with title "Final Fantasy Extreme".
Originally published for Super Famicom console (Super Nintendo).