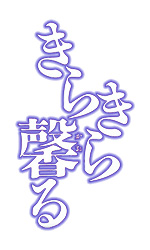 After committed suicide, a young girl named Sagiri can not go to Nirvana (Heaven) because of her sin. As punishment, she must serve as a guide in Sanzu River, the realm between the living and the death. After doing her job for 300 years, one day she was assigned a task to guide a man's soul who arrived at the realm to return to living world, because the man is not yet dead, according to his fate. Sagiri fell in love with the man named Hisagi, and they made promise to meet again in their next life.
Upon completing her final task, Hisagi returned to live, and Sagiri is given a chance to go to Nirvana. Happy? Maybe. But the twist comes when God give a reward to Sagiri. She's not going to Nirvana and have to wait for reincarnation. Instead, she returns to live in living world, back in her own time when she committed suicide, 300 years before.
A very interesting love story in the time set of Japanese Heian period. Having served in Sanzu River for 300 years gave Sagiri the courage to face anything that stands between her and her dreams. It's fresh, it's unique, and it's extremely funny !
My rating : ★★★★★
Scanlation Project
Having purchased the manga, I tried to look for the English translation from the Internet. After searching for few weeks, I could not find anything other than a nice RAW scan from VNSharing.
So I decided to try starting this scanlation project.
This is a one person project, so speed is obviously out of concern.
I will finish this great manga, especially when I receive enough feedback from all of you, readers.
You are free to download and re-distribute the release, but please do not remove or edit any page, including the credit page. Please use the original zip file for redistribution.
If you wish to share this in your blog, Facebook, Twitter or personal website, you must use the link to https://www.balamiere.com/manga/kirakirakaoru/
Do not link directly to the download URL.
IMPORTANT
If you like this manga, please buy the original manga when it's available in your country.
Scanlation Releases