Magic The Gathering Deck
Name : Sure Damage!
Color : White
Deck size : 60 cards
Created : November 2007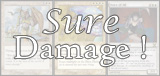 Some of my friends have complicated white decks that it took hours just to play against it.
I decided to make something different.
A white deck that doesn't need a lot of thinking during the game.
A white deck that will always damage the opponent every turn !
How? By having some unblockable or untouchable creatures like Dawn Elemental, Commander Eesha, Voice of All and Beloved Chaplain.
Playing white deck is now more fun !
The Key Cards
| | | |
| --- | --- | --- |
| Flying and can not be damaged, this is the basic idea of the deck. | Flying, protection from creatures, every attack will surely deals damage to your opponent. | A smaller version of Commander Eesha. |
| A flexible protection, playable against any opponent. | Another flexible protection. | Mother of Runes helps to protect your other important creature when in danger. |
| Unblockable and can remove counter, good combination. | Revered Dead is a good blocker, a white version of Drudge Skeletons. | Handles big and dangerous creatures with a single tap. |
| My favorite creature removal spell. | Three functions in one card, very handy. | Spirit Link is usually my life-saver against bad condition. |
The Deck
4x Mother of Runes (W, U)
3x Revered Dead (1W, C)
4x Beloved Chaplain (1W, U)
2x Diving Griffin (1WW, C)
2x Knight of Dawn (1WW, U)
2x Intrepid Hero (2W, R)
4x Dawn Elemental (WWWW, R)
2x Commander Eesha (2WW, R)
2x Voice of All (2WW, R)2x Ferropede (3, U)
3x Dawn Charm (1W, C)
4x Swords to Plowshares (W, U)
2x Disenchant (1W, C)4x Spirit Link (W, U)

20x Plain

Sideboard
2x Disenchant (1W, C)