Just like other kids, I love to watch cartoon when I was little. No specific word of anime that time. I basically watch everything, from The Flinstones to Donald Duck, from Superman to Voltus. As far as I can remember, Voltus is probably the first anime I have ever watched. I liked it, but it did not make me love Japanese anime as a specific type of art, different from other cartoons.
I was in my third year of college, my friend had a small business renting VCD (yes, still VCD at that time) of animation movies. Persuaded by my girlfriend (now my wife), I rented a serial of Aats! Megumi-sama OVA version (also known as Ah! My Goddess). Love it ! Then I started to have a little attention to these "Japanese cartoon" (that's how I called it back then).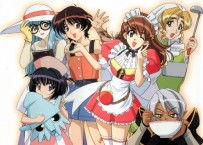 Did I start to love anime? Mmmm, not quite yet. It was few weeks after that, I rented my next serial "Hand Maid May". This time I was deeply moved because of two reasons. One, I love the animation style. Two, the story is about robots with artificial intelligence. It was my dream since high-school to make an artificial intelligence that can chat casually with us. So it was kinda big coincidence. Soon after that, I learn the word "anime" from a discussion with a friend watching the same title.
The next anime was Love Hina. Again, got me attached with it for few weeks, starting to browse internet about anime, downloading wallpapers, downloading theme songs etc. Starting to be an anime watcher.
Another title from the maker of Hand Maid May came to my attention : "I My Me! Strawberry Eggs". This one got me deeper into the anime world. To the point that I can declare myself an anime lover. Inuyasha that watched after that made me watched Takahashi Rumiko's other works, Ranma.
It was in May 2002 when I made my very first web page about anime. I got so moved when I purchased my first original anime VCD "I My Me! Strawberry Eggs" (all previous series that I watched were fansub version), then I decided to make a web review about it. The page is still here in this website, though it had been adjusted to some design changes, the basic idea of combining review and screenshots remains the same. At that time, blog was not yet popular, and very few online anime review provides more than one or two screenshots.
Today I am a big fan of anime and would like to share my experience with other fans. For that purpose I regularly add new anime review in this website, along with other types of content. Certainly hope that a lot of people is enjoying my review as well as find it useful.
Balamiere