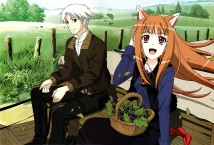 Some of you might notice that all download links for Spice and Wolf light novel no longer worked since few weeks ago. I just updated all download links. For now, I decide to use 2 file servers: Maxfile.ro and Teknik.io
Hopefully my epub files will not get deleted in these 2 new servers. Please let me know if you still experience any issue with download. Sorry it took few weeks for me to fix the links. I was super busy with work deadline.
Rest assured, I will finish the EPUB conversion of Spice and Wolf until the last volume.