And so we only have 6 episodes to go in this second season of K-On!! I don't usually blog individual episode of an anime, but this episode 20 is really a special episode.
As expected, this episode was started by the HTT (Houkago Tea Time) concert in their final year in highschool. The concert was heartwarming with two new songs (Gohan wa Okazu and U&I) and Yui's super-long MCing.
I like U&I better, especially because Mugi composed the music and the story behind this song's lyrics when Yui was taking care of sick Ui (episode 17).
Back to the first episode of this anime's first season. I have to admit that I totally had no interest for this anime. It was one night when I saw an episode of K-On in Animax with Yui offering a slice of cake cake to Azusa, and that scene got me to start downloading the whole series.
It all started very simple. Two best friends dreaming about forming a band after watching a performance from TV (Ritsu and Mio). One is a little boyish and one is very timid and easy to scare. When both of them wanted to join the light music club (K-On), they are told that all the previous members were graduated and the club will be shut down unless 4 people or more join this club this year. And so Ritsu and Mio began to search for new members. By fate, they meet Mugi, a rich girl who can play keyboard and decided to join after seeing a little bit of Ritsu-Mio usual fight session. Desperate to find their 4th member, their prayers are answered when Yui joins without even knowing what the club does.
It is the cuteness and the uniqueness of Yui that captures people's heart, making this anime more interesting than just ordinary girl-band anime. As their highschool time flows, their friendship develops to the point that other people would start thinking that it's going to be difficult to enter their "circle". At least this is what I think about the reason why only one person (Azusa) joined the club in the next year.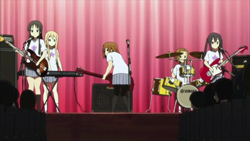 Now, back to episode 20. I have read some blogs and reviews telling that this episode is one of the best episode. So I was like refreshing my animesuki page every few hours, hoping to see the Frostii release there.
So I watched it, with anticipation that many people cried watching this episode. It started funny with everyone wrote "hito" on Mio's hand, then it continues with a surprise event of HTT T-Shirts, which apparently distributed freely to everyone attending the concert hall. The concert was opened by another "little" accident, showing Yui in a pose similar to K-On advertisement.
Then it was the first song, a funny and catchy song. It's really not a bad song, but somehow I didn't really like it. Ah yes, I also learnt that Kijima Yuko, the real songwriter of this one died of heart attack 2 days after the airing of episode 20. Best wishes to her family and friends.
Next is Yui's MCing. Some people said that she took way too much time to talk instead of singing. But again, this is their last performance. And seeing the concert hall, they do have fans. So I guess they deserve this little time to speak.
If you noticed, each of our five girls have their own "fan" group who will scream when their "idol" speaks. So here we have Mio and Ritsu speak few lines from the Romeo & Juliet play a day before. The second song was "Fuwa-fuwa Time", the one we heard often, especially the ending part.
Next is the introduction. I like the fact that Yui introduced Yamanaka-sensei first before the other members. Even she has problem to mention her proper name instead of "Sawa-chan". Then introducing Nodoka is also a smart move. I laughed hard when Nodoka was running from spotlight, and her hands giving signal to continue with the show. Not very emotional so far.
After Yui introduced the other 4 members, a little surprise came. I was touched when the other 4 decided to introduce Yui in the end. Caught Yui surprised, and starting to hit my emotional spot. It is always KyoAni's trick to play with our emotion, so the third song (U&I) began with Yui saying "this is our final song". Really really love this song. Can't wait to hear the full version, but I'll have to wait until 8 September for them to release the single.
And so the big concert is over. Our five heroines are having their moment in the clubroom. Planning what to do next, then realize that their time together in highschool will soon come to an end. This is where K-On caught me off guard. I mean, usually I watch this anime for a good laugh. I feel sad for them. I feel sad that their wonderful friendship will soon come to end. Or won't they?
Being a club which spend more time having tea and eating cakes, HTT is nothing near special as a band. But their closeness is something we don't see often. They have different characters, different styles, yet they can understand each other better than most people. Without realizing it, they support and rely on each other.
I certainly hope for a third season of K-On. It would be nice to see Yui and the others as college girls. It would be awesome to see them actually perform in Budokan !